H Frame 30 Ton Hydraulic Press
There is no question that using a hydraulic press provides a number of advantages over machine presses, including uniform power through the complete stroke of the press, fewer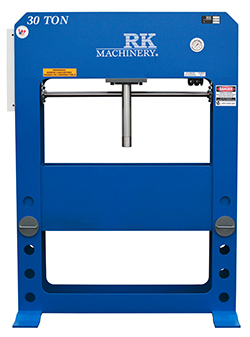 moving parts to maintain and repair, etc. Although it is obvious that every shop should have at least one hydraulic press that meets its most prevalent demands, it is also important to make sure that the hydraulic press purchased is dependable and of the highest quality. Over the past 30 years, RK Machinery has developed a reputation of building high-quality, customized hydraulic presses that meet their customer's need. The H-Frame 30 hydraulic press is no different.
Standard Features that Stand Out
When assessing a hydraulic press, one of the first areas of interest should be the standard features that are offered. This will provide a lucid image of what can be expected at the base price. The standard features of the RK Machinery H-frame 30 ton hydraulic press are too multitudinous to list here, but there are some worth mentioning.
Electric hydraulic operation system that ensures a consistent and smooth pressing action. This provides the operator with the confidence that they will be able to produce predictable and consistent results each time.
Open sides of the press ensure that it has the capacity to facilitate the need to work with longer pieces.
The low speed pump creates a more quiet operation that is highly dependable
High Capacity is the strength of this press, and to accommodate it, the press is equipped with a high capacity 10 gallon hydraulic reservoir.
The low pressure design of this H-frame 30 ton press allows it to maintain lower oil temperatures, which result in a higher degree of efficiency, and it also creates a safe operational environment.
Checking out the Extras

The standard features on this press are enough to make it stand out among its competitors, but the available options allow customers to customize their press to meet any specific needs they may have. Some of the available options are:
Matched pair V blocks (as option)
A front safety guard to increase the protective measures for the operator (as option)
Foot pedal operation, which uses an electric solenoid valve to allow hands-free operation (as option)
Adjustable stroke control
With all of the standard and extra features, the one thing that is a constant with this press and all of the hydraulic presses manufactured by RK Machinery uses quality material and the quality of service that comes with it.