25 Ton Press that is dependable.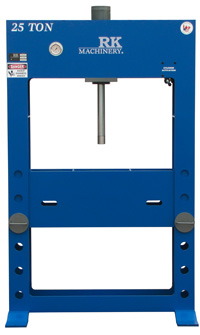 Are you looking for a dependable hydraulic press for your shop? The 25 ton RK Machinery HFP-25 is an affordable option that will meet all your needs. It offers many standard features, allows you to choose options based on your needs, and can even be customized to your specifications. It is designed to be compact and modular making it a perfect fit in almost any shop. Additionally, it can perform a variety of jobs. It is safe, rigid, and easy to use. Simply out, the RK Machinery HFP-25 is a must have in any shop.

The 25 ton hydraulic press allows for electric/ hydraulic operation to make certain it maintains a smooth, consistent pressing action. There is a 5 gallon hydraulic oil reservoir. The low pressure hydraulic system maintains lower oil temperatures making it safer to operate and more efficient. The double-acting cyl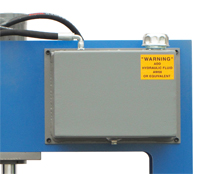 inders allows for pulling and pressing ram action. The flat ram nose is very simple to change out so the operator can modify the press to a specific job without a lot of effort and confusion. The low speed pump is dependable and quiet. It features open sides making the process of working on long pieces much more simple. Finally, the cylinder activation is controlled by the operator's fingertips meaning the more the hand lever is engaged, the more the ram movement is accelerated. This gives the operator the ability to control the right speed for the task at hand.


At RK Machinery,we understand the importance of safety when using these powerful machines. As a result, we have taken every nec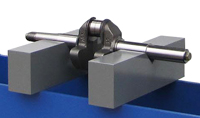 essary precaution to keep the operator and individuals in the area safe. However, you also have the option of having a front safety guard to further protect the operator. We can also include a pressure regulator to limit the ram pressure. Finally, matched pair V-blocks can be added.(as an option)